Hire and sales
Scaffold King specialises in Aluminium Quickstage scaffold.
Aluminium Quickstage is a relatively new concept, and is already commonly used in Australia by large and small builders and the home improver. The scaffolds lightweight design, modular components and flexibility makes it easy to transport and work with, making any job a breeze.
Aluminium Quickstage scaffold was designed to go where the commonly used steel scaffold couldn't. With it light weight design it can be built on any surfaces that has a low load rating such as roofs, tiled, paved areas.
Why choose Scaffold King
Perfect for any job where working at heights is an issue.
Safe, strong and durable.
Custom Engineered design which goes beyond Australian standards.
Lightweight means quick install, dismantle and to transport which saves the customer money.
Safe and comfortable as working on the ground which will save you time and money.
So versatile that it can be built anywhere at anytime.
Cost effective solution to your working at height or access problem.
Versatile, strong, quick and lightweight
Internal ladder access is provided in all scaffolds. (Stair access can be added at customer request).
Safe workload is 450kg per bay.
Scaffolds can be built up to 25m in height.
Scaffolding widths: 0.7m, 1.2m.
Scaffolding lengths: 1.8m, 2.4m and 3.0m.
Aluminium Quickstage scaffolds have two safe working loads Medium Duty (450 kgs) and Light Duty (225 kgs). All Scaffold King products are certified to Australian Standards and are WorkCover / Safe approved.
All Aluminium Quickstage scaffolding comes with internal ladders, however, we can introduce aluminium stair trends which create a stair access so materials and people can be easily walked up and down the scaffold as required.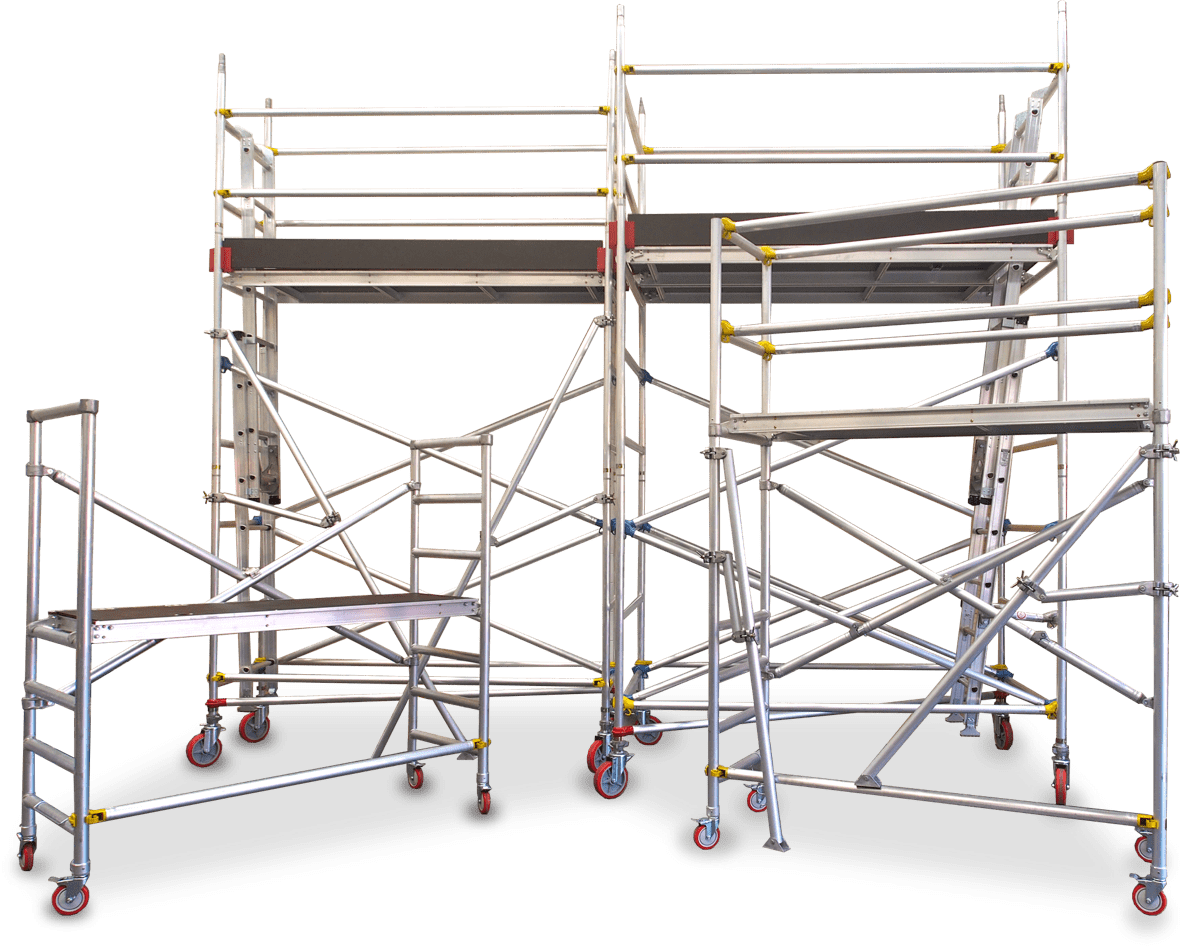 Scaffold Components
Standards, ledgers/transoms, face bay brace, end brace, hop ups, scaffold jack, sole boards, platform, access platform, 3.0m ladder.